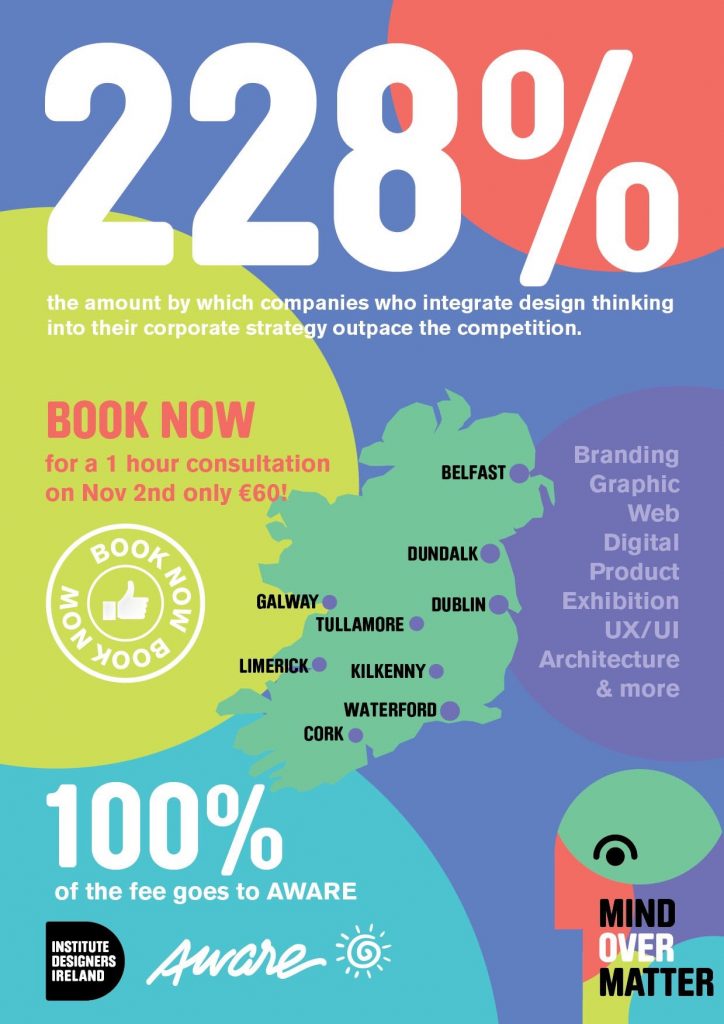 We are very excited and proud to be part of this wonderful initiative, brought to you by the Institute of Designers in Ireland and Aware. Mind Over Matter is an event that aims to put a spotlight on mental health in the community. This is a great opportunity for your business to meet some of Ireland's best design talent. You can get access to professionally qualified designers from a wide range of disciplines, with knowledge specific to your needs and be satisfied that your fee is going to a great cause.
Designers are natural problem solvers who make it their business to be on the pulse of international design practices and thinking. It's their dedication to innovation and creativity that translates into added value for your business, whether that's through branding, production, user experience or manufacturing.
By embracing design it has been proven time and time again to add value to your business in ways that can end up creating competitive advantage and improving your bottom line.
With 10 locations across Ireland, Mind Over Matter will take place on 2nd November 2017.
For a fee of €60 anyone from an established business to a start-up or an entrepreneur can book a consultation hour with a designer. The fee goes straight to Aware, while during the hour you will find innovative solutions and discover new opportunities, while raising money for a great cause in your region.
or if you'd like to book an hour with us in the Tara Building in Dublin then just click here
Hoping to see you on the day 🙂