We are delighted to, once again, be part of this wonderful Institute of Designers in Ireland (IDI) initiative, Mind Over Matter.
Design works so make it work for your business.
With locations across Ireland, Mind Over Matter will take place on 10th October 2018. For a fee of €75 (£70) anyone from an established business to a start-up or an entrepreneur can book a consultation hour with a top creative professional. During that time, you'll receive expert knowledge and ideas, create new opportunities and with the entire fee going to Aware, you'll be raising money for a great cause too.
Case Study
Last year we had the pleasure of working with our first Scottish client, Sue Hutchinson. We helped Sue to brand and build her thriving new business Stress Less. Naturally. Here's what Sue said following her experience working with us at last year's Mind Over Matter: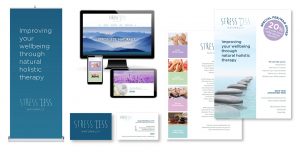 I first starting working with Una Healy after spotting one of her tweets about the IDI Mind Over Matter event last year. I booked an hour consultation with her through the website. As I wasn't in Ireland at the time, I spoke with Una on Skype. I was starting a reflexology business in Edinburgh and had no idea where to start with branding. I had the business name "Stress Less. Naturally." but that was it. During my one hour chat with Una, I learnt so much. She advised me on all aspects of my branding and from that time has consistently helped me to build my business to the busy practice that it is today. The money spent on that one hour couldn't have been better spent. Having spoken with Una, I knew that she was the one to help my brand. We work well together. And knowing that my money spent is being donated to such a good cause is another benefit to this terrific initiative!
If anyone is looking for a terrific designer, look no further. Book yourself a one hour consultation for €75 and start growing your business. I can highly recommend this to business owners.
Creative, intuitive and patient. Cannot recommend Una Healy Design highly enough.
Susan Hutchinson – CEO
So why not join us on the day? And let's explore how we can help your business grow.
You can book your consultation here